Product Summary
The MAX7219CNG is a compact, serial input/output common-cathode display driver that interfaces microprocessors (μPs) to 7-segment numeric LED displays of up to 8 digits, bar-graph displays, or 64 individual LEDs. The MAX7219CNG includes a 150μA low-power shutdown mode, analog and digital brightness control, a scanlimit register that allows the user to display from 1 to 8 digits, and a test mode that forces all LEDs on. The applications of the MAX7219CNG include Bar-Graph Displays, 7-Segment Displays, Industrial Controllers, Panel Meters, LED Matrix Displays.
Parametrics
MAX7219CNG absolute maximum ratings: (1)Voltage (with respect to GND) V+: -0.3V to 6V; DIN, CLK, LOAD, CS: -0.3V to 6V; All Other Pins: -0.3V to (V+ + 0.3V); (2)Current: DIG0–DIG7 Sink Current: 500mA; SEGA–G, DP Source Current: 100mA; (3)Continuous Power Dissipation (TA = +85℃): Narrow Plastic DIP: 0.87W; Wide SO: 0.76W; Narrow CERDIP: 1.1W; (4)Storage Temperature Range: -65℃ to +160℃; (5)Lead Temperature (soldering, 10sec): +300℃.
Features
MAX7219CNG features: (1)10MHz Serial Interface; (2)Individual LED Segment Control; (3)Decode/No-Decode Digit Selection; (4)150μA Low-Power Shutdown (Data Retained); (5)Digital and Analog Brightness Control; (6)Display Blanked on Power-Up; (7)Drive Common-Cathode LED Display; (8)24-Pin DIP and SO Packages.

Diagrams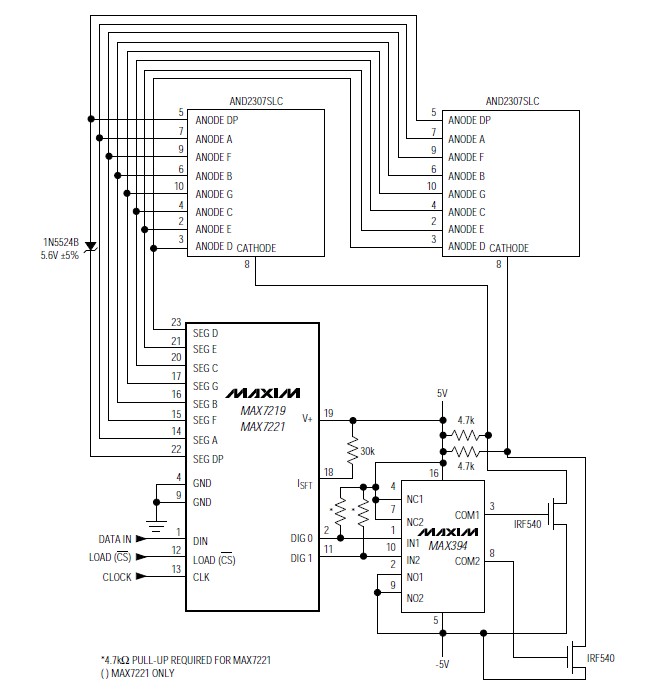 Image
Part No
Mfg
Description
Pricing
(USD)
Quantity

MAX7219CNG

Maxim Integrated Products

LED Display Drivers 8-Digit LED Display Driver

Data Sheet

Negotiable

MAX7219CNG+

Maxim Integrated Products

LED Display Drivers 8-Digit LED Display Driver

Data Sheet



| | |
| --- | --- |
| 0-1: | $7.57 |
| 1-25: | $5.04 |
| 25-50: | $3.19 |
| 50-100: | $3.14 |