Product Summary
The MAX691CPE is a supervisory circuit. It reduces the complexity and number of components required for power supply monitoring and battery control functions in microprocessor systems. The MAX691CPE includes μP reset and backup-battery switchover, watchdog timer, CMOS RAM write protection, and power-failure warning. The MAX691CPE significantly improves system reliability and accuracy compared to that obtainable with separate ICs or discrete components. The applications of the MAX691CPE include: computers, controllers, intelligent instruments, automotive systems, critical μP power monitoring.
Parametrics
MAX691CPE absolute maximum ratings: (1)Terminal voltage(with respect to GND)VCC: -0.3V to 6.0V; VBATT: -0.3V to 6.0V; All other inputs: -0.3V to (Vout +0.5V); (2)Input current VCC: 200mA; VBATT: 50mA; GND: 20mA; (3)Output current Vout: short circuit protected; all other outputs: 20mA; (4)Rate-of-rise, VBATT, VCC: 100V/μs; (5)Operating temperature range C suffix: 0℃ to +70℃; E suffix: -40℃ to +85℃; M suffix: -55℃ to +125℃; (6)Storage temperature range: -65℃ to +160℃; (7)Lead temperature(soldering, 10seconds): 300℃.
Features
MAX691CPE features: (1)Precision voltage monitor; (2)Power OK/Reset Time Delay-50, 200ms, or adjustable; (3)Watchdog Timer-100ms, 1.6 sec, or adjustable; (4)Minimum component count; (5)1μA standby current; (6)Battery backup power switching; (7)Onboard gating of chip enable signals; (8)Voltage monitor for power fall or low battery warning.
Diagrams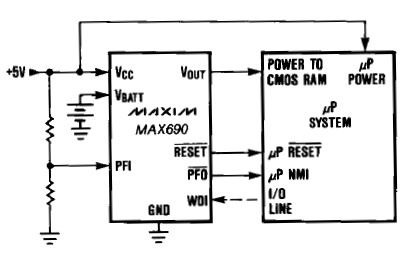 Image
Part No
Mfg
Description
Pricing
(USD)
Quantity

MAX691CPE

Maxim Integrated Products

Supervisory Circuits

Data Sheet

Negotiable

MAX691CPE+

Maxim Integrated Products

Supervisory Circuits MPU Supervisor

Data Sheet



| | |
| --- | --- |
| 0-1: | $5.44 |
| 1-25: | $3.62 |
| 25-50: | $2.63 |
| 50-250: | $2.58 |