Product Summary
The NTD25P03L is a Power MOSFET designed for low voltage, high speed switching applications and to withstand high energy in the avalanche and commutation modes. The source-to-drain diode recovery time is comparable to a discrete fast recovery diode. The typical applications of the NTD25P03L include PWM Motor Controls, Power Supplies, Converters, Bridge Circuits, Pb-Free Package is Available.
Parametrics
NTD25P03L absolute maximum ratings: (1)Drain-to-Source Voltage, VDSS: -30 V; (2)Gate-to-Source Voltage, Continuous, VGS: ±15V; Non-Repetitive (tp ≤ 10 ms), VGSM: 20Vpk; (3)Drain Current, Continuous @ TA = 25℃, ID: -25A; Single Pulse (tp ≤ 10 μs), IDM: -75Apk; (4)Total Power Dissipation @ TA = 25℃, PD: 75 Watts; (5)Operating and Storage Temperature Range, TJ, Tstg: -55 to; (6)+150℃; (7)Single Pulse Drain-to-Source Avalanche, EAS: 200 mJ; (8)Thermal Resistance, Junction-to-Case, RθJC: 1.65℃/W; Junction-to-Ambient, RθJA: 67℃/W; Junction-to-Ambient, RθJA: 120℃/W; (9)Maximum Lead Temperature for Soldering Purposes, (1/8 inch from case for 10 s), TL: 260℃.
Features
NTD25P03L features: (1)Drain-to-Source Breakdown Voltage, V(BR)DSS: -30V at VGS = 0 Vdc, ID = -250 μA; -24mV/℃ at Temperature Coefficient (Positive); (2)Zero Gate Voltage Drain Current, IDSS: -1.0μA at VDS = -30 Vdc, VGS = 0 Vdc, TJ = 25℃; -100μA at VDS = -30 Vdc, VGS = 0 Vdc, ; (3)Gate-Body Leakage Current, IGSS: -100nA at VGS = ±15 Vdc, VDS = 0 Vdc.
Diagrams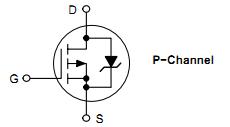 Image
Part No
Mfg
Description
Pricing
(USD)
Quantity

NTD25P03L

ON Semiconductor

MOSFET -30V -25A P-Channel

Data Sheet

Negotiable

NTD25P03L1

ON Semiconductor

MOSFET -30V -25A P-Channel

Data Sheet

Negotiable

NTD25P03LG

ON Semiconductor

MOSFET -30V -25A P-Channel

Data Sheet



| | |
| --- | --- |
| 0-1: | $0.70 |
| 1-25: | $0.63 |
| 25-100: | $0.49 |
| 100-500: | $0.43 |


NTD25P03L1G

ON Semiconductor

MOSFET -30V -25A P-Channel

Data Sheet

Negotiable

NTD25P03LRL

ON Semiconductor

MOSFET -30V -25A P-Channel

Data Sheet

Negotiable

NTD25P03LRLG

ON Semiconductor

MOSFET PFET 30V 25A LL TR

Data Sheet

Negotiable

NTD25P03LT4G

ON Semiconductor

MOSFET -30V -25A P-Channel

Data Sheet



| | |
| --- | --- |
| 0-1: | $0.60 |
| 1-25: | $0.49 |
| 25-100: | $0.42 |
| 100-500: | $0.33 |


NTD25P03LT4

ON Semiconductor

MOSFET -30V -25A P-Channel

Data Sheet

Negotiable