Product Summary
The HCPL-M601 is a small outline high CMR, high speed, logic gate optocoupler. It is a single channel device in a five lead miniature footprint. The HCPL-M601 optically coupled gates combine a GaAsP light emitting diode and an integrated high gain photon detector. The output of the detector I.C. is an Open-collector Schottky-clamped transistor.
Parametrics
HCPL-M601 absolute maximum ratings: (1)Storage Temperature: -55℃ to +125℃; (2)Operating Temperature: -40℃ to +85℃; (3)Forward Input Current - IF: 20 mA; (4)Reverse Input Voltage - VR: 5 V; (5)Supply Voltage - VCC (1 Minute Maximum): 7 V; (6)Output Collector Current - IO: 50 mA; (7)Output Collector Power Dissipation: 85 mW; (8)Output Collector Voltage - VO: 7 V.
Features
HCPL-M601 features: (1)Surface Mountable; (2)Very Small, Low Profile JEDEC Registered Package Outline; (3)Compatible with Infrared Vapor Phase Reflow and Wave Soldering Processes; (4)High Speed: 10 Mbd; (5)LSTTL/TTL Compatible; (6)Low Input Current Capability: 5 mA; (7)Guaranteed ac and dc Performance over Temperature: -40℃ to 85℃; (8)Recognized under the Component Program of U.L.(File No. E55361) for Dielectric Withstand Proof Test Voltage of 2500 Vac, 1 Minute.
Diagrams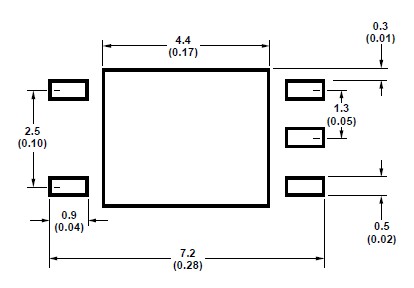 Image
Part No
Mfg
Description
Pricing
(USD)
Quantity

HCPL-M601

Avago Technologies

High Speed Optocouplers 10MBd 3750Vdc

Data Sheet



| | |
| --- | --- |
| 0-340: | $0.95 |
| 340-500: | $0.90 |
| 500-1000: | $0.85 |
| 1000-2000: | $0.79 |


HCPL-M601#500

Avago Technologies

High Speed Optocouplers 10MBd 3750Vdc

Data Sheet



| | |
| --- | --- |
| 0-890: | $0.92 |
| 890-1500: | $0.86 |
| 1500-3000: | $0.81 |
| 3000-6000: | $0.76 |


HCPL-M601-500E

Avago Technologies

High Speed Optocouplers 10MBd 3750Vdc

Data Sheet



| | |
| --- | --- |
| 0-890: | $0.92 |
| 890-1500: | $0.86 |
| 1500-3000: | $0.81 |
| 3000-6000: | $0.76 |


HCPL-M601-000E

Avago Technologies

High Speed Optocouplers 10MBd 3750Vdc

Data Sheet



| | |
| --- | --- |
| 0-340: | $0.95 |
| 340-500: | $0.90 |
| 500-1000: | $0.85 |
| 1000-2000: | $0.79 |


HCPL-M601-560E

Avago Technologies

High Speed Optocouplers 10MBd 3750Vdc

Data Sheet



| | |
| --- | --- |
| 0-890: | $0.94 |
| 890-1500: | $0.88 |
| 1500-3000: | $0.83 |
| 3000-6000: | $0.77 |