Product Summary
The P6SMB10CA is a Surface Mount TRANSZORB Transient Voltage Suppressor. It is suitable for Use in sensitive electronics protection against voltage transients induced by inductive load switching and lighting on ICs, MOSFET, signal lines of sensor units for consumer, computer, industrial and telecommunication.
Parametrics
P6SMB10CA absolute maximum ratings: (1)Peak power dissipation with a 10/1000 μs waveform, PPPM: 600 W; (2)Power dissipation on infinite heatsink TA = 50℃, PD: 5.0 W; (3)Peak forward surge current 8.3 ms single half sine-wave uni-directional only, IFSM: 100 A; (4)Operating junction and storage temperature range, TJ, TSTG: - 65 to + 150℃.
Features
P6SMB10CA features: (1)Low profile package; (2)Ideal for automated placement; (3)Glass passivated chip junction; (4)Available in uni-directional and bi-directional; (5)600 W peak pulse power capability with a 10/1000 μs waveform, repetitive rate (duty cycle): 0.01 %; (6)Excellent clamping capability; (7)Very fast response time; (8)Low incremental surge resistance; (9)Meets MSL level 1, per J-STD-020, LF maximum peak of 260℃; (10)Solder dip 260℃, 40 s; (11)Component in accordance to RoHS 2002/95/EC and WEEE 2002/96/EC.
Diagrams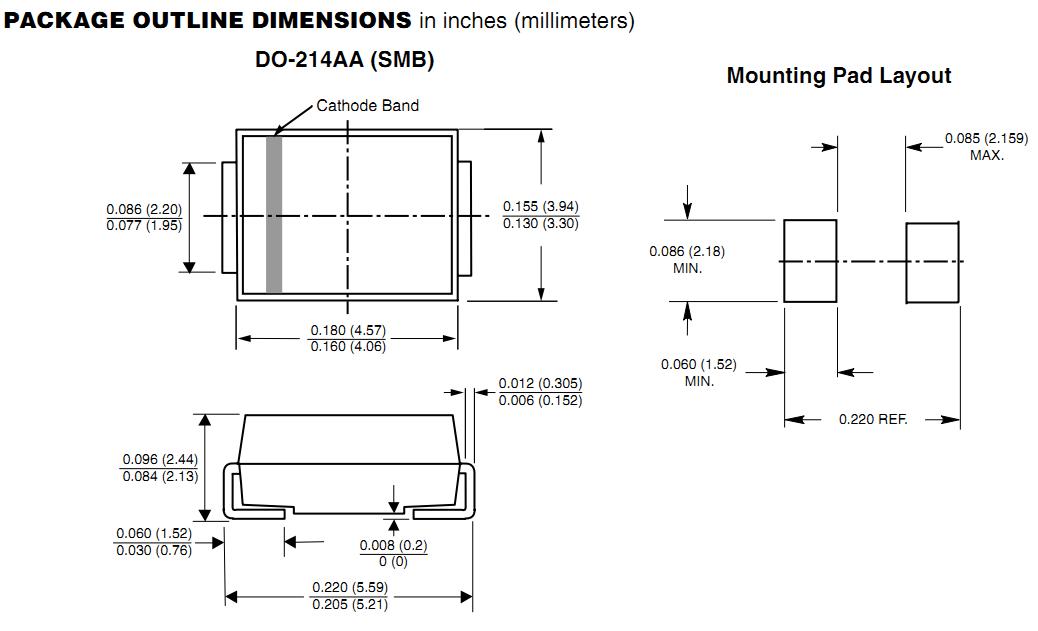 Image
Part No
Mfg
Description
Pricing
(USD)
Quantity

P6SMB10CA

Littelfuse

TVS Diodes - Transient Voltage Suppressors TVS SURF MT DO214AA

Data Sheet



| | |
| --- | --- |
| 0-1: | $0.27 |
| 1-25: | $0.24 |
| 25-100: | $0.20 |
| 100-250: | $0.18 |


P6SMB10CA-E3/52

Vishay

TVS Diodes - Transient Voltage Suppressors 600W 10V 5% Bidir

Data Sheet



| | |
| --- | --- |
| 0-1: | $0.46 |
| 1-10: | $0.44 |
| 10-50: | $0.41 |
| 50-100: | $0.39 |
| 100-750: | $0.33 |


P6SMB10CAHE3/5B

Vishay Semiconductors

TVS Diodes - Transient Voltage Suppressors 600W 10V 5% Bidir

Data Sheet



| | |
| --- | --- |
| 0-1: | $0.48 |
| 1-10: | $0.46 |
| 10-25: | $0.43 |
| 25-100: | $0.41 |


P6SMB10CA-E3/5B

Vishay

TVS Diodes - Transient Voltage Suppressors 600W 10V 5% Bidir

Data Sheet



| | |
| --- | --- |
| 0-1: | $0.46 |
| 1-10: | $0.44 |
| 10-25: | $0.41 |
| 25-100: | $0.39 |


P6SMB10CAHE3/52

Vishay Semiconductors

TVS Diodes - Transient Voltage Suppressors 600W 10V 5% Bidir

Data Sheet



| | |
| --- | --- |
| 0-1: | $0.48 |
| 1-10: | $0.46 |
| 10-50: | $0.43 |
| 50-100: | $0.41 |
| 100-750: | $0.35 |