Product Summary
The NE555 is a Precision Timer. The NE555 is a precision timing circuit capable of producing accurate time delays or oscillation. In the time-delay or monostable mode of operation, the timed interval is controlled by a single external resistor and capacitor network. The output circuit is capable of sinking or sourcing current up to 200 mA. Operation of the NE555 is specified for supplies of 5 V to 15 V. With a 5-V supply, output levels are compatible with TTL inputs.
Parametrics
NE555 absolute maximum ratings: (1)Supply voltage:18V; (2)Input voltage:18V; (3)Output current:±225mA; (4)Package thermal impedance:97℃/W; (5)Operating virtual junction temperature:150℃; (6)Storage temperature range:-65℃ to +150℃.
Features
NE555 features: (1)Timing From Microseconds to Hours; (2)Adjustable Duty Cycle; (3)Astable or Monostable Operation; (4)TTL-Compatible Output Can Sink or Source up to 200 mA.
Diagrams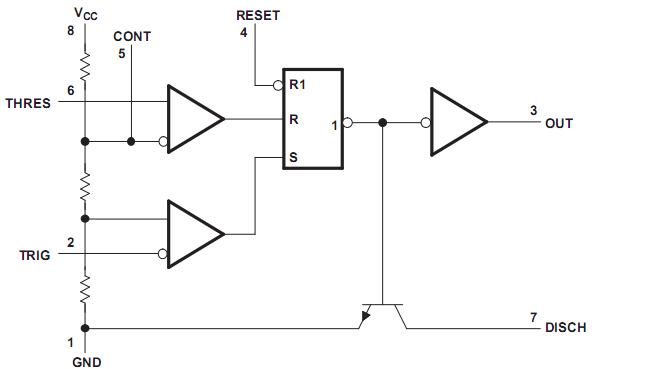 Image
Part No
Mfg
Description
Pricing
(USD)
Quantity

NE555

Other



Data Sheet

Negotiable

NE555C

Other



Data Sheet

Negotiable

NE555D

STMicroelectronics

Timers & Support Products General Purp Single

Data Sheet



| | |
| --- | --- |
| 0-1: | $0.43 |
| 1-10: | $0.36 |
| 10-100: | $0.27 |
| 100-250: | $0.24 |


NE555DE4

Texas Instruments

Timers & Support Products SINGLE PRECISION TIMER

Data Sheet



| | |
| --- | --- |
| 0-1: | $0.26 |
| 1-25: | $0.19 |
| 25-100: | $0.16 |
| 100-250: | $0.11 |


NE555DG4

Texas Instruments

Timers & Support Products SINGLE PRECISION TIMER

Data Sheet



| | |
| --- | --- |
| 0-1: | $0.24 |
| 1-25: | $0.19 |
| 25-100: | $0.14 |
| 100-250: | $0.10 |


NE555DR

Texas Instruments

Timers & Support Products Precision

Data Sheet



| | |
| --- | --- |
| 0-1: | $0.33 |
| 1-25: | $0.19 |
| 25-100: | $0.15 |
| 100-250: | $0.11 |


NE555DRE4

Texas Instruments

Timers & Support Products Precision

Data Sheet



| | |
| --- | --- |
| 0-1: | $0.22 |
| 1-25: | $0.15 |
| 25-100: | $0.12 |
| 100-250: | $0.10 |


NE555DRG4

Texas Instruments

Timers & Support Products Precision

Data Sheet



| | |
| --- | --- |
| 0-1: | $0.22 |
| 1-25: | $0.18 |
| 25-100: | $0.13 |
| 100-250: | $0.09 |